January-May 2019
Free Public Talks

Wednesday evenings 7:30-9:30 unless otherwise noted.
At Eric Quezada Center for Culture and Politics
518 Valencia Street (near 16th), in San Francisco
A place to meet and talk unmediated by corporations, official spokespeople, religion, political parties, or dogma.

Archive of past talks
Online audio archive of past talks, listed by type:

To subscribe to our Talks as a podcast, paste the link into your favorite podcast software (iTunes, Podcast Addict, etc.)
Confused about podcast subscribing? Go here for an explanation on how to do it.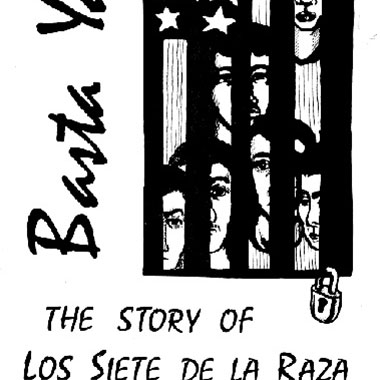 May 8, 7:30 pm
The Women of Los Siete de la Raza
50 years after the arrest of seven young men from the Mission District galvanized a movement, women gather who were active in creating the multi-faceted community response that grew out of the Los Siete Defense Committee. From Basta Ya!—the newspaper—to Centro de Salud and La Raza Information Center and a free breakfast program, explore a lasting legacy in this plática including Donna James Amador, Yolanda M. Lopez, Judy Drummond, Maria Elena Ramirez, Nilda Alverio, and author Marjorie Heins (Strictly Ghetto Property). Eva Martínez moderates.
Co-hosted by California Historical Society

Part of a series of events commemorating 50 years since the formation of the Los Siete Defense Committee
Image: Original Basta Ya! cover fragment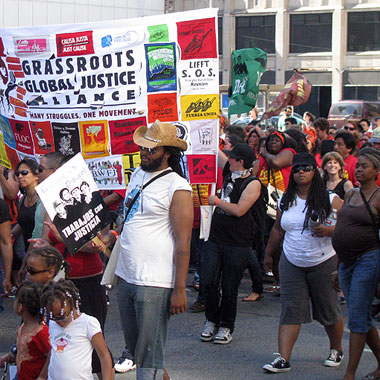 May 22, 7:30 pm
Local Ecological Justice and Urbanity
Gopal Dayaneni (Movement Generation), Anthony Khalil (Literacy for Environmental Justice), and Jason Mark (editor, Sierra Magazine) discuss urbanity and ecological crisis from their ultra-local, regional, and national perspectives of environmental and ecological justice.
Photo: Detroit U.S. Social Forum, 2010, by Chris Carlsson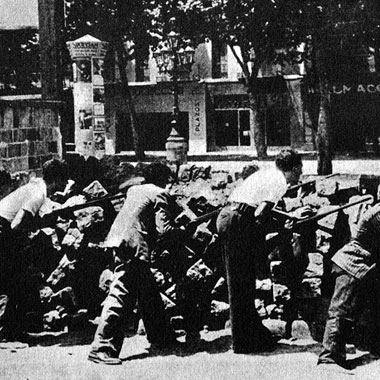 May 29, 7:30 pm
Americans in the Spanish Civil War 1936-1939
International volunteers rushed to Spain in 1936 after General Francisco Franco led a military coup against the Spanish Republic. Adam Hochschild, author of Spain In Our Hearts, brings to life remarkable characters in this bloody and bitter conflict that consumed Spain for 3 years. 80 years ago this spring the conflict ended, leaving the country under three decades of military dictatorship.
Photo: Citizens of Barcelona rush to barricades to defeat fascist uprising, 1936.
Shaping San Francisco is fiscally sponsored by Independent Arts & Media, a California non-profit corporation.